Advanced laptop repair services at an affordable price
Around Snohomish there are many computer repair companies, however, you will find that Hopenet Consulting can help resolve all of your computing problems.
Yes, you can search the web for the best companies in the industry and enjoy urgent excellence to your laptop or pc solution needs but if you are reading this article then you are in the right place to learn more about our comprehensive services.
There are several essential aspects of a computer to take into account. Basic knowledge of how the system works is important, but when the problem arises, it is advisable that you seek the help of a qualified professional. If you are running a business, the best way to ensure the smooth functioning of computer systems is to hire a professional computer repair company that can handle all computer problems.
Hopenet Consulting Computer Repairs company has proven to be the best option in town. The wide range of services offered includes apple repair hard drive recovery, virus removal, network support, motherboard repair, mac repair and many other brands of computer which are commonly found today.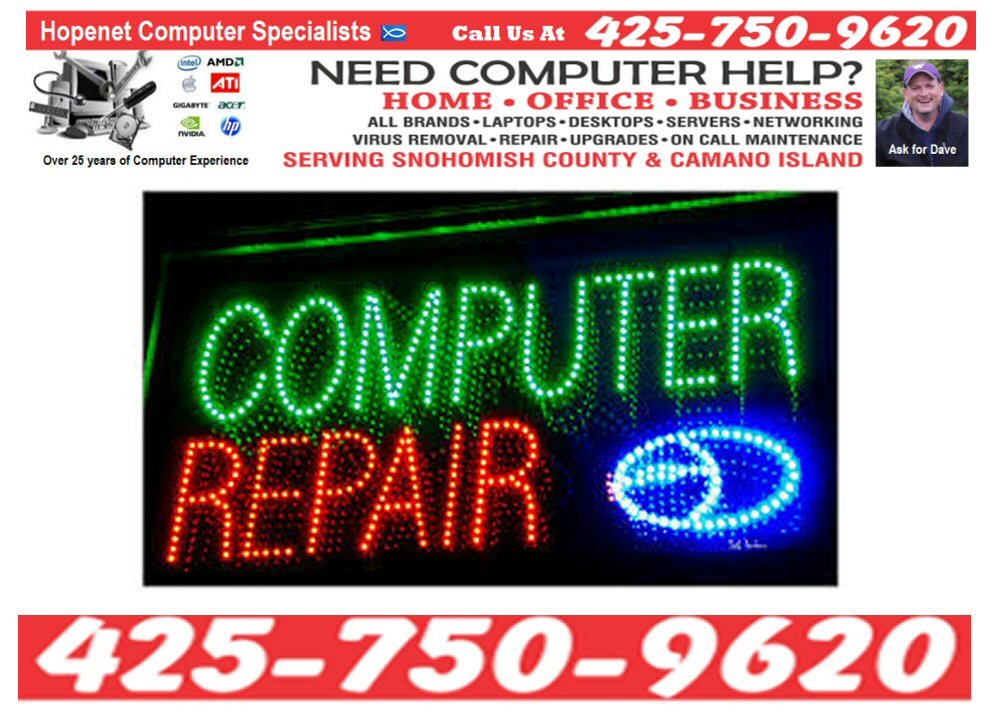 If you are looking for professional help for your computer or laptop maintenance, you can rely on us to provide the highest quality computer support and services that are important to you.
Yes, you've come to the right computer security service where our reputable computer and laptop repair business was founded right here in Snohomish WA, the home of affordable computer repair is pleased to have the opportunity to serve the residents of the surrounding areas with quality services at the most affordable prices.
PC COMPUTER REPAIR – MOST ADVANTAGEOUS PRICES
If your computer or laptop is not working for any reason, help is at hand. We are a specialist computer repair and computer support company offering quality PC and laptop repairs at affordable prices. Our experienced technicians can help you with everything to do with home and business computers, from virus removal to setting up wireless networks and printers.
Hopenet Consulting is a computer repair company in Snohomish offering PC and laptop repairs, virus removal, hardware upgrades and other computer services. We offer computer and laptop repairs to home users and small businesses. If you are looking for a reliable and affordable computer repair business, we have an excellent reputation with all of our customers. We have included some reviews on our website and Google, so feel free to check out the links to the website with real reviews from real computer repair customers in Sheffield.
Hopenet Consulting offers a low price guarantee on all our computer, PC and laptop repairs. If you find a lower published price for the same repair, we will match that price and knock $5 off ours. All of our repairs come with a 90-day warranty for your peace of mind. If you are looking for the cheapest computer repair near me Snohomish, PC repair or laptop repair near me, come see us.
Basics of PC and DC socket repair.
Lenovo is a well-known brand in the computer industry that provides users with an unparalleled computing experience. Hopenet Consulting offers the best computer and laptop repair services at affordable prices. Everyone is aware of what computers mean to us. Computers have changed our professional and daily lives. Get laptop repair services and DC socket repair services in Washington State.
Computer repair: Know you need help
Computer repair services and market segments. Hopenet Consulting Computer repair services are crucial to the industry. As a provider of computer repair services, knowing your market segments can help you find customers who need your help.
When determining our market segments, there are three factors we consider. Answering the three W questions: who, what, and why, allows us to focus on the customers who need our help. – We focus on the customers who need computer repair services the most. Creative marketing and sales approaches give us a much more targeted customer base.
At Hopenet Consulting we don't just wait until there is a crisis with our client's computer or network before they need to go to a computer repair and computer support expert, we keep in regular contact with them and manage their network and computers either on-site or remotely.
This can lead to the right decision being made at the right time saving our clients time, worry and reducing downtime.
Knowing which company to choose when it comes to computer repair and support requires research. Hopenet Consulting is the best computer company offering the best service with a 100% service guarantee.
Hopenet Consulting is an IT company also and takes care of or our clients IT training. We have a real-time trainer for training.
Different types of computer repair experts
Every computer system needs an expert check-up at some point. A computer may develop a hardware or software problem that can be fixed by on-site computer repair. On-site computer repair experts know how to fix different types of problems that affect the operation of your computer.
There is no denying the saying "time is money" and this statement is absolutely true for businesses, large or small.
So visit our website at http://hopenetconsulting.info-4all.com/